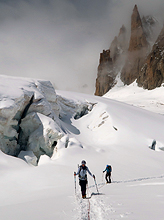 Debbie Marks & Suzanne Hiramatsu — Vallée Blanche.
July 1, 2017
The summer's trips
• Rachel and Ethan, Allalinhorn
• Kathy's Woolly Tour
• Russ and Matthew, Chamonix
• Suzanne and Debbie, Chamonix
John and Jack MacWilliams — Cosmiques Arête
July 4, 2017
• John and Jack, Chamonix
• Gini, Tina and Gary, Chamonix
Akbar Kahn — Petite Aiguille Verte.
July 8, 2017
• Akbar Khan, Chamonix
• Joe Cain, Chamonix to Zermatt
Norm Numerof — Mönch SW Ridge.
July 15, 2017
• Norm Numerof, Switz and Cham
• Berner Oberland Glacier Trek
• Tate, Mila, Susan and Jeffery
Laura, Rob, and Kathy — Berner Oberland Trek.
July 24, 2017
• Kathleen and Jim, Switzerland
• Giovanna and Bob, HR
• David and Joseph, Switzerland
• Michele and Craig, Chamonix
Andreas Lindström — Petit Flambeau
August 16, 2017
• Grant Carnie, 3 more 4000ers
• Andreas Lindström, Chamonix
• Mike Duker, Cosmiques
• Andy Latham, Snowdonia
Mark Barnard — Aiguille d'Entrèves
August 22, 2017
• Mark Banard, Chamonix
• John Cobb, Zinal Rothorn, plus
• Grant Carnie, Mount Kenya
• Leiberman, Van Cotts, TMB
Speaking of you...
We like to mention folks by name and feature them personally as much as possible. However we also wish to respect everyone's privacy, so if you have done a trip with us and would prefer we not share the particulars in our e-newsletter, we perfectly understand. Please let us know!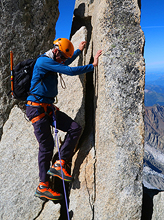 Mike Duker — Cosmiques Arête
September 11, 2016
Winter is coming!
Of course we COULDN'T write our autumn newsletter until the snowflakes began to fly. It's a rainy day for once in Chamonix, after a warm and summer-like October, so it's time for us sit ourselves down and get back in touch with reports of the past year's trips, and plans for next.
As some of you may know, it was a hot, dry summer here in the Alps. The weather was great! But the glacier conditions deteriorated earlier than usual, and for much of the latter part of the summer, many normally mellow routes were either more technical than usual, with bare ice replacing snow slopes, or off limits due to increased rockfall hazard. Nevertheless we managed to do a lot of really good climbs, treks and routes, by taking advantage of the great weather, and focussing on the many objectives that were in good condition.
Kathy's summer began with her first Woolly Tour in the Dauphiné and Drôme Provençal. Joined by Deb Lee, her sister-in-law Pamela, and friend Robin Halliday, they all had a blast learning new craft skills and experiencing the spectacle of French alpine sheepy culture, past and present.
Moving the sheep up to pasture — Die (the town's name). June 24, 2017
Meanwhile, Deb's and Pamela's sweeties Russ and Matthew, kicked off the alpine climbing season with Mark around Chamonix.
Matthew Root and Russ Lee — Cosmiques Arête. June 27, 2017
Then it was off to the races! So many trips and climbs, we can't fit in all the photos of course. For that, as always visit our Recent Trips pages. But for a few highlights, read on!
Early season rock: Gini, her husband Gary, and friend Tina climbed with Kathy and Mark (tag teaming!) in and around Chamonix.
Gini Kramer — Cocher-Cochon, Chamonix. July 12, 2017
Mark spent a fair bit of time in the Pennine Alps around Zermatt this year. Here, John Cobb ambles up the beautiful slabs of the Wellenkuppe.
John Cobb — Wellenkuppe. August 30, 2017
Kathy enjoyed mostly perfect weather on her glacier treks. Below, Joe Cain checks out the dramatic crevasses on the Stockji Glacier.
Joe Cain — Chamonix to Zermatt Glacier Trek. July 15, 2017
Later on, Laura and Rob joined Kathy on a Berner Oberland trek, which had mostly good weather but ended in a downpour!
Laura, Tenner and Rob Elliot — Berner Oberland Trek. July 22, 2017
Mark got to climb with the entire Sall family: Susan (mom), Jeffrey (dad) and two daughters Tate and Mila, in Chamonix.
Clan Sall — Glacier du Tour. July 23, 2017
Kathleen and Jim Soukup joined Mark and Mike Powers on a wander through the Swiss Alps, high times indeed.
Kathleen and Jim Soukup — airborne on the Rotstock. July 28, 2017
Then it was Kathy's last glacier trek of the season with Bob and Giovanna, from Chamonix to Zermatt. Again, getting repetitive here, phenomenal weather!
Bob and Giovanna — Haute Route Glacier Trek. August 1, 2017
David Dougherty was back to climb with Mark again, getting a lot done including a day or two with friend Joseph.
David and Joseph on the Allalinhorn. August 7, 2017
Michele and Craig had a "grudge match" with Mont Blanc, and, along with Kathy, they got lucky this time! What a climb, and especially great conditions given this season's heat wave.
Michele and Craig, Mont Blanc. August 13, 2017
Grant was out to climb with Mark once more, and picked off a gem in the Obergabelhorn, as well as the Barre des Ecrins. The pair would later travel to Kenya with designs on Mount Kenya (logically enough).
Grant Carnie — summit of the Obergabelhorn. August 17, 2017
Kathy and Andy were back in the UK, to check out scrambles in North Wales.
Andy Latham — Wales. August 23, 2017
Finally, to finish up her season, Kathy was joined by 4 friends for a late autumn Tour du Mont Blanc. Mark showed up at key moments to support us as well!
Jamie, David, Mark, Kathy, Laurie and Andrea, TMB. September 29, 2017
2017-18 Winter
We have an extensive line-up of ski tours planned again for this Winter. Check out the offerings below, and look on our booking levels page for space availability.
We'll get rolling in early February, with a return to the Val Maira, a real favorite of ours. As usual, we'll stay in a beautiful Pensione high in an alpine valley, and make forays up the many surrounding peaks and sparsely forested ridges wherever the best snow beckons. The dates for this trip, are February 5 to 9.
Valle Maira, Italy.
After a couple of weeks of private trips, we plan a return to the Silvretta region straddling the Austrian/Swiss border. We consider this a great introduction for those new to the "hut to hut" lifestyle of the European Alps, as the accommodations are quite comfy with hot showers and generous breakfasts, and the hut to hut col crossings, while glaciated and challenging, are not terribly long. We love this region for its many big descents off easy peaks and passes, and great choice of aspect and steepness. Trip dates: February 24 to March 1.
Mont Blanc from the Tête de Muet.
We have two Ortler trips planned this season. Another great favorite for challenging ski ascents/descents from comfortable huts, famous for their Italian hospitality. Sunshine is also usually in good supply! Trip dates are respectively: March 3-9, and 19-25.
Our "backyard". Glacier du Tour Noir.
The Albula region of southeastern Switzerland is on our calendar again this year. We love this unique part of Switzerland, with its "exotic" Ladin culture and sunny (normally!) weather. The skiing is exceptional too, wandering from valley to valley over high ridges and through sparse forests. This trip runs March 11 to 17.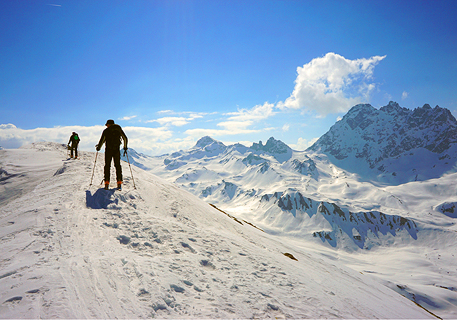 Ils Chalchogns, near the Heidelberger hut. Silvretta.
Branching out a bit, we finally are heading to Norway! We'll stay at the lodge of our friend Seth Hobby in Lofoten, and enjoy high times in and amongst the fjords. Trip dates: April 3-8.
After Norway we'll be back in the Alps for another hit, the classic Chamonix to Zermatt Haute Route via Verbier. This is the journey of a lifetime for experienced skiers and back country tourers looking for a fulfilling challenge in one of the most rugged and beautiful mountain environments on earth. Trip dates are April 14-21.
Finally, we will close our season with a 6 day tour in the Bernese Oberland. Always an adventure, this tour takes us through the vast hinterlands of the Jungfrau region and its seas of ice and snow. Peak ascents and remote settings are the high points of this tour. Trip dates are April 25-30.
Skinning up towards the Äbeni Flue, Berner Oberland Tour.