Over-the-head powder
January 22, 2013
Last winter's trips
•
The Vacher family, Chamonix off-piste skiing
•
Kathy & Mark, in their "back yard"
•
Mark & Kathy in the Vallée Blanche
•
Ortler ski tour
•
Albula skiing
•
Silvretta tour
•
Our first Chamonix to Zermatt
•
Aimee and Blake in the Vallée Blanche
•
Our second Chamonix to Zermatt Haute Route
•
Fred and John in the Zermatt and Saas areas.
•
Bill Pearson on the Schwarztor and Strahlorn
•
Berner Oberland tour
Glacier du Mont Mallet,
February 18, 2013

Speaking of you...
We like to mention folks by name and feature them personally as much as possible. However we also wish to respect everyone's privacy, so if you have done a trip with us and would prefer we not share the particulars in our e-newsletter, we perfectly understand. Please let us know!
Bill on the Allalin Glacier. May 2013
Winter of 2012-13: WOW!
You may have heard the news; this Winter in the European Alps was one for the record books. It started snowing early, and never stopped. In fact, as I sit here at my desk at the end of May, it's snowing to the valley floor for the second day in a row! We're ready for a change in season... any day now!!! But as for the ski season we had absolutely no reason to complain.
January and February were characterized by frequent snowfalls with good sunny spells between, and low temperatures. The result? Lots of powder days! We made the most of it, on our own and with guests, and were amazed how many times we ended the day saying, "No, really, this time I mean it, that was the BEST POWDER I've skiied in years!"
Starting in March, just in time for our hut-to-hut touring season, the weather became more consistently stormy. Still good cold temperatures and plenty of good snow, but the clear days became somewhat more spread out and we had a bit of adjusting to do in order to accommodate conditions and keep doing things safely in the high mountains. Nevertheless we did complete more fun and beautiful tours than any previous year.
This wet and cool weather trend has continued now for three months; a few good days, and then another series of storm systems moving through. The mountains this end-of-May look very wintry still, although the valley lifts are closed and skis have mostly been put away for the year.
The upshot of this amazing spell of weather, is the glaciers are bound to be fat and white and snowy well into the summer alpine season. This may turn out to be a Summer somewhat like our "grandparent's" might have known in the high Alps! We're looking forward to some beautiful days up there once the season truly turns.

2013 winter highlights

During January and February we had countless good days skiing on and off the pistes. We continued to explore our back yard, doing new (to us) tours in the Aiguilles Rouges, the Aravis, and of course repeating old favorites in and around the Vallée Blanche and off the Grands Montets lifts.
Kathy in the Pas de Chèvre,January 16, 2013
Our ski mountaineering season started off with a trip to the Ortler region in the South Tyrol in early March, followed by a new tour, in the Albula Pass area of the Swiss Engadine region. Next we moved over a couple of valleys, to the Silvretta region, where we fit in an Easter week tour. Two Chamonix to Zermatt Haute Routes, then some private tours in the Zermatt and Saas Fee regions. Finally, we closed out the ski season with a Bernese Oberland tour, later than usual but still in fantastic conditions.
Vallée Blanche. February 9, 2013
We are now recharging our batteries and getting ready for the upcoming summer alpine climbing season. We hope you enjoy the photos and trip reports of the past few months. Thanks to all who joined us; it was great skiing and traveling with you all.
Near the Kesch hut, Albula, March 19, 2013
Alps summer treks and climbs
This year's summer guiding schedule is already virtually all booked up! Each of us has a few remaining days, however. See our availability page for details.

Kathy has space available on her Chamonix to Zermatt Glacier Trek July 14—20 (3 spaces available).
Finally, we'd love to see you in the Calanques in October, if you want a Fall get-away that includes Mediterranean sea-cliff climbing in the sun and great French cuisine!
Sormiou, Les Calanques, France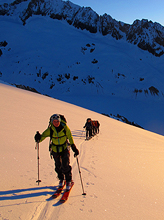 Annie and the team Berner Oberland. May, 2013
Chamonix off-piste
We will be back from our yearly U.S. visit and available for off-piste or ice guiding around the end of January. Let us know if you would like to come over and discover what our part of the Alps has to offer. More info.
Waterfall ice
Join us for waterfall ice climbing in Cogne or on the cliffs surrounding the Argentière Glacier. And if conditions are good, the high peaks near the Aiguille du Midi and the Grands Montets can also offer some chilly fun. Info here.
Ski Tours for the 2014 spring season
Queyras - France's answer to Colorado, February 17—22, 2014. See photos from our previous trips: 2012, 2011, and 2010.
Albula - Saint Moritz to Davos March 6—12, 2014. Check out the movie on our Albula page to see why we like it.
Silvretta - Switzerland March 15—20.
Ortler - Italy, March 23—29.
Our Verbier Haute Route will run April 2—9.
A second Haute Route, via the Plateau du Couloir. Dates are April 16—23, 2014.
Berner Oberland will run April 26—May 3.
Private trip dates available. If you have a group of friends, or simply want a smaller team, we also have a couple time slots for private trips. February 1—14 and also February 25—March 4. Last, we can also fit in one more trip after our currently scheduled Berner tour. Also, any of the dates above can be switched to a private trip, as long as we have no current sign-ups for them. If you would like to discuss a private trip, be in touch, we'd love to hear your ideas.
Keep in touch!
As always we love to hear from you. Let us know if you have any plans, hopes or ideas for a future climb, trek or ski tour, or if you would like to book some quality mountain time in 2013. Thank you as always for your interest and your participation in these far-flung endeavors, and we hope to see you in the hills.
Best Wishes for 2013



Kathy and Mark