Russ Lee. Vallée Blanche
February 14, 2018
Summer 2018
• Akbar Khan, Chamonix
• Ingrid and Ellen, Chamonix
• Dorish, Mann Group, Gr Paradiso
• Arnaldo Rocha, Chamonix
• Jack and John MacWilliams
Ingrid and Ellen, Petit Flanmbeaux
June 15, 2018
• Bob and Giovanna, Chamonix
• Gini Kramer, Chamonix
Vanessa in the Aiguilles Rouges
June 24, 2018
• Cham-Zermatt HR
• Jane Diemont, Chamonix & Zermatt
Arnaldo Rocha, Petite Aiguille Verte
June 23, 2018
• Michele and Craig, Switz and Cham
• John White, Gr Paradiso
• Laura Tenner, Chamonix
Gini Kramer, Pyramid du Tacul
July 10, 2018
• Zach and Dirk, Chamonix
• Yibing, and Yijie, Chamonix
• Andreas Linström, Chamonix
• Eastern Berner, Andy and Rob
Bob Yarchoan, Aiguille du Tour
July 13, 2018
• David Dougherty. Monte Rosa and Chamonix
• Liz and Richard, Chamonix to Zermatt HR
• Grant Carnie, 4000ers
• Kathleen and Jim, Mont Blanc and more
Michele and Craig, Breithorn
July 26, 2018
Speaking of you...
We like to mention folks by name and feature them personally as much as possible. However we also wish to respect everyone's privacy, so if you have done a trip with us and would prefer we not share the particulars in our e-newsletter, we perfectly understand. Please let us know!
Andy and Rob, Obri Bächlilicken
August 15, 2018
Liz and Richard, Haute Route
Aug 23, 2018
Grant Carnie, Petite Aiguille Verte
August 24, 2018
Autumn 2018 Newsletter
Goodday Campers! Yes, we're still kickin' around the mountains, and this past year we've met, rejoined, and climbed and skied with many friends new and old (not speaking chronologically). As the mountains quiet down for a couple of months and the weather gods ruminate over how much snow they're going to throw at us in the coming winter, we like to sit down and share with you what we've been up to, and what we plan for the coming year. We hope you'll be entertained, and possibly inspired to join us on an adventure in 2019.
Summer 2018 doings
We had a busy summer as usual, and enjoyed really fantastic weather as a rule, if a bit dry by the end of the season. All in all an exceptionally good and productive season. Below are just a selection of some of our client's accomplishments, and we're sorry we can't fit them all in here! But of course if you want to see them all, head over to our "Recent Trips" gallery.
Akbar Kahn, Marbrees Traverse. June 13, 2018.
Mark guided Akbar Khan on Mont Blanc, with several training climbs to prepare.
Akbar on Mont Blanc's summit. June 16, 2018
A gorgeous summit day!
John and Jack MacWilliams, Aiguille d'Entrêves, July 2, 2018
John MacWilliams was back with his son Jack, also for a Mont Blanc ascent with Mark, including some great preparation climbs as well.
Jane Diemont, Castore. July 19, 2018
Jane met up with Mark in Switzerland for a modified (by the aforementioned weather gods) "Spaghetti tour"
Anders, Michele and Craig, Tête Blanche. July 20, 2018
Craig and Michele Young/Grau were back again this summer, this time with both Kathy and Mark. They brought along Michele's nephew Anders for a Chamonix to Zermatt glacier trek with Kathy, before meeting up with Mark for several days of climbing around Zermatt.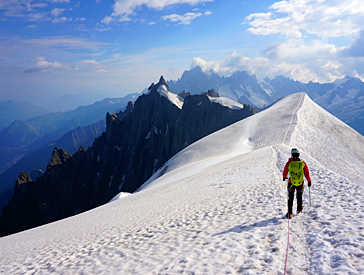 Laura Tenner, Aiguille du Midi. August 1, 2018
Laura Tenner and Mark did some mountain training in and around Chamonix in preparation for a burly trek with Kathy later in the summer.
Zach and Dirk, Vallée Blanche. August 2, 2018
Zach Whitley was back to climb with Kathy again, this time with friend Dirk for part of the fun.
Yijie, Yibing and Mark, Petite Aiguille Verte. August 7, 2018
Yibing Mao brought her sister Yijie with her, for training and an ascent of the Gran Paradiso. Kathy and Mark tag teamed on this great week with them!
Andreas Lindstrom, Petite Aiguille Verte. August 9, 2018
Andreas Lindstrom was back from Sweden this summer, joining Mark for some alpine climbing in and around Chamonix.
David Dougherty, Monte Rosa. August 15, 2018
As always, David Dougherty was back to climb with Mark this year, mostly picking off peaks in Switzerland, adding to their considerable resumé together!
Grant Carnie, Zinal Rothorn. August 28, 2018
Another long time "repeat offender" Grant Carnie, whose tick list with Mark grows longer every year!
Kathleen and Jim, Mont Blanc summit. September 8, 2018
Kathleen and Jim Soukup hit the Mont Blanc with Mark this year, lucking out with conditions.
Jamie Leiberman, Diretta al Banano. September 19, 2018
Finally, Jamie Lieberman helped Mark finish out his season with a great week of mostly rock, both cragland and alpine.
2018-19 Winter
We have an extensive line-up of ski tours planned again for this Winter. Check out the offerings below, and look on our booking levels page for space availability.
We'll get rolling in early February, with a return to the Val Maira, a real favorite of ours. As usual, we'll stay in a beautiful Pensione high in an alpine valley, and make forays up the many surrounding peaks and sparsely forested ridges wherever the best snow beckons. The dates for this trip are February 4 to 8.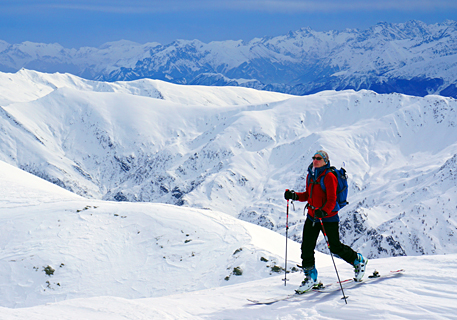 Endless skiing in Val Maira.
After a short break, we plan a return to the Silvretta region straddling the Austrian/Swiss border. We consider this a great introduction for those new to the "hut to hut" lifestyle of the European Alps, as the accommodations are quite comfy with hot showers and generous breakfasts, and the hut to hut col crossings, while glaciated and challenging, are not terribly long. We love this region for its many big descents off easy peaks and passes, and great choice of aspect and steepness. Trip dates: February 17 to 22
"Farming and stacking", lovely turns in the Silvretta.
The Albula region of southeastern Switzerland is on our calendar again this year. We love this unique part of Switzerland, with its unique Ladin culture and sunny (normally!) weather. The skiing is exceptional too, wandering from valley to valley over high ridges and through sparse forests. This trip runs March 2 to 8.
Albula powder!
Norway! We are heading to back to Norway! We'll stay at the lodge of our friend Seth Hobby in Lofoten, and enjoy high times in and amongst the fjords. See photos from our 2018 tour.
We have scheduled two 6-day trips. Trip dates: March 12-17 and March 19-24.
Lucky timing in Lofoten! Our first Northern Lights experience, kept us up half the night!
We also have an Ortler trip planned this year. Another great favorite for challenging ski ascents/descents from comfortable huts, famous for their Italian hospitality. Sunshine is also usually in good supply! Trip dates are: March 29 to April 4.
Traversing the Cevedale - Pasquale col in the Ortler region.
6 day Tour du Ciel.
Trip dates are April 22-27.
Boppin' around below the Zinalrothorn, high in the Val d'Anniviers.
Scheduled Ski Tours for 2019
Private Ski Tours in 2019
In addition to the above scheduled trips, we also have several private programs planned. See our Booking Levels page for more detail.
As of mid-November, not all of the scheduled trips above have bookings. The following blocks of days could accomodate a new private program for you or your group.
February 1—10
February 15—22
March 1—8
March 29—April 4
If you would like to discuss a private trip, please contact us. We'd love to hear your ideas.
2019 Summer offerings
Mark will be available as always for alpine ascents, rock climbing, and ice climbing this summer. Please check with him by email, and/or refer to our Booking Levels page to see what dates he has left.
Kathy will again run her glacier treks this summer, including the Chamonix to Zermatt Glacier Trek July 15 - 21. Do be in touch soon to join her on one of these classic high mountain routes! She is also available for custom, private treks and/or climbs, in late July and much of August.