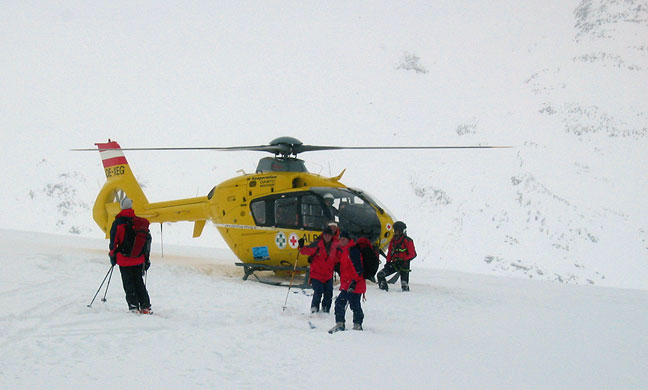 All was going well, until the descent of the steep couloir. We had the situation well in hand, walking down on foot, skis on the pack when another party arrived at the col. Unfortunately, ignorance, carelessness or whatever allowed one of the members to stray too close to the corniced edge. The cornice collapsed and dropped the skier and the debris on to the small slope just underneath. This, in turn released a small slab avalanche. The avalanche, cornice debris and whatnot hit two of our party, Chris and Mark, as they were down climbing below. Mark and Chris were swept down about 200 feet and got pretty beat up in the process.
A helicopter was called, and about 20 minutes later our two heroes were on their way to the hospital. Mark suffered a nasty cut in of the scalp and also a bad cut in one of his knees. Chris got a bang on the head and 4 broken ribs.
As luck would have it another large group, the Austrian mountain policy were on the same tour and came down to help us. We were all a bit shaken up but continued down to the very nice Martin Busch hut. Chris and Mark were kept in the hospital for the next few days, but we did meet up again with them in Obergurgl at eh end of the trip.
This photo, courtesy of Rich Davis, shows the helicopter.