Tod Wood • Alps Mountaineering • July 2002
| | |
| --- | --- |
| Tod Wood joined Mark for several days of climbing in the Mont Blanc Massif. Tod, who once enjoyed the freedom of the outdoors as a NOLS instructor now makes his home in London. | |
Tod, on the summit of Mont Blanc du Tacul on a cold, but sunny day.
This was our first climb, the Aiguille d'Entreves. We did a traverse of this fun peak, starting on the left and finishing on the ridge coming toward us. The big buttress in the back is the Grand Pilier d'Angle on Mont Blanc. The France-Italy border runs across the Entreves, and later on this day we climbed over the Aiguille du Toule and spent the night just inside Italy, at the Torino hut.


The Peuterey Ridge on Mont Blanc, as seen from the Torino hut.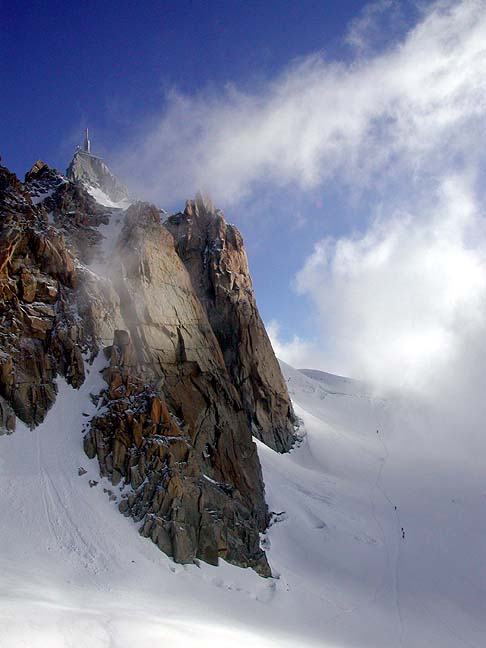 This is the Aiguille du Midi from the Cosmiques Hut. The climbers on the right are heading either up to or down from the cable car entrance on the back side of the summit. The two buttresses seen here are the South Face, on the right, and the Eperon de Cosmiques, on the left. Both sport many great rock climbs, all about 5. 9 and harder.
From the Cosmiques Hut we climbed a number of things, one of which was the Contamine Route on the North Face Triangle of Mont Blanc du Tacul. Here, Tod is coming up the initial pitches of the entrance couloir.
A bit higher on the Contamine Route. The Aiguille Verte and Les Droites can be seen behind.
And the next morning, it was up and over the Traverse route for us. Sunrise hits us as we climb the long and steep snow slope on Mont Maudit.
Later in the day we have climbed over Mont Blanc and are descending the Gouter Route on the NW side side of the peak. Here, climbers are coming up the final arete to the summit.
Just a bit lower down, we stopped to strip off some clothes. This is the view back up towards Mont Blanc's summit.
And lower still as we get down below 4000 meters, we get a fine view across the Chamonix Aiguilles and off into Switzerland. The closer peak with the shady face is the Aiguille du Midi (hard to believe there is a cable car to the summit) and behind are the summits of the Aiguille Verte, Les Droites and Les Courtes.
All images, layout and text ©2002 Cosley & Houston Alpine Guides, All Rights Reserved