Trips from this summer
•
Susan, Mel, Ed and Jim in Peru
•
Peter Barry in Chamonix
•
Hugo Kidston on the Jegihorn
•
Emma & James on Mont Blanc
•
Ken Seamon in Saas, Chamonix
•
Colin Bailey in Chamonix
•
Rob Maloney in Chamonix
•
Consuelo and Rob in Chamonix, Saas and Zermatt
•
Mark Baldwin in Saas and Zermatt
•
Matt Croy in Chamonix
•
Chamonix to Zermatt Glacier Trek with Heather and Mike, Chris and John, Minx, and Mo.
•
Mike Starr in Chamonix and Zermatt
•
Chris Robinson on Les Cosmiques
•
David Dougherty on Mont Blanc
•
Wim, Ive, Kristof and Raf in Chamonix and the Gran Paradiso
•
Jeff McLaughlin in Zermatt
•
Mark McGinnes on the Cosmiques
•
Michele & Craig in Chamonix
•
Rob and Steve in Chamonix
•
Steve & Claire in Chamonix
•
Kade & Claire in Chamonix and also the Valais
•
Amy Boebel in Chamonix
•
Mihai Novak on Mont Blanc
•
Jack Santo in Chamonix
•
Mark Conner in Chamonix
•
Ginny, Sandy and Audrey climbing in the Dolomites
•
Peter Stock in the Dolomites
•
Joe Ludwig in Chamonix
•
Brad and Craig on Mont Blanc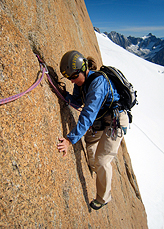 Aiguille du Midi, South Face. Kathy and Mark take a day off.
Last winter's skiing
•
Berner Oberland with Marcus and Diana, Paul, Kurt, Rich and Mick
•
The Haute Route, with Mont Vélan. Adina, Thomas, and Lawrence.
•
The Chamonix to Zermatt Haute Route via Verbier. Fred, John, Will, Gary and Bob.
•
Ortler ski tour, with Russ and Kade.
•
Monica Solmonson off-piste around Chamonix
•
Jonathan and Frankie in the Silvretta nd the Dolomites.
•
Minnesota Boys, Steve, John, Andy, Bruce, Stephen and Hans, skiing in the Ortler.
•
Rupert and Charlie in the Vallée Blanche
•
Wade Collins, Chamonix off-piste
•
Edoard and William in the Vallée Blanche
•
Russ and Will and the Vallée Blanche
•
Susie and Stan, Chamonix off-piste
Speaking of you...


We like to mention folks by name and feature them personally as much as possible. However we also wish to respect everyone's privacy, so if you have done a trip with us and would prefer we not share the particulars in our e-newsletter, we perfectly understand. Please let us know!
Summer's over, c'mon Winter!
Leaves are turning and we've got the heater back on here in the Chamonix valley. With snow already creeping down into the mid-mountains, it's time to fill you all in about what's coming up for the winter and beyond, in case any of you would like to join us, and let you know who's been out having fun during the past months.

It's been a good year. We had a bit of time off in January so we went and checked out the Queyras region of the French Alps. We found beautiful scenery, snow and terrain. As a result we've put a 5-day tour up on the schedule for 2011. Check it out, and we hope some of you can join us there. We did quite a bit of off-piste skiing nearer home, and we ran our usual range of trips to the Silvretta, Ortler, Chamonix to Zermatt, and Berner Oberland to finish out our ski season.

In May we got back to Peru for the first time in some years, and had a wonderful time re-connecting with friends and climbing several peaks there. Conditions on Chopicalqui were extremely open which turned us back from the summit, but the climbing was interesting and we had better luck with our other objectives.

Our summer was full of climbing throughout the Alps, and although the weather in August was quite mixed, turning frequently cool and damp, we had great luck overall accomplishing our goals, and enjoying better-than-average snow coverage and glacier conditions. We got to work together on a couple of your projects, which was fun. Kathy's Chamonix to Zermatt high level glacier trek was a success, with perfect weather and a strong, tough and tight-knit group of great people. A few days in the Dolomites finished up her season, unfortunately with a bit more cold and rain than one would like!

Coming up:
We have a big and ambitious line-up of ski trips planned for 2011. In addition to the Silvretta, Ortler, Chamonix to Zermatt Haute Route (a Verbier version and also the Plateau du Couloir) and the Bernese Oberland, we also will offer a February jaunt in the Queyras, and set aside time in January and February for Chamonix-based off-piste and day tours. Details and dates below.

In May we plan to head back again to Peru. We are toying with the idea of having a go at the northeast face of Artesonraju; this is a big and difficult route but very beautiful. Please contact us if you think this would be your cup of tea.

We will guide in the Alps as usual from June to September, and have already begun to get bookings (see our "availability" page).
Kathy plans to repeat her Chamonix-to-Zermatt glacier trek, and add a "Walker's" version as well this July. The high level glacier trek is a very strenuous and challenging route with considerable technical, glaciated and exposed terrain mostly off-trail. The Walker's version, while still a very difficult trek, combines lodging in hotels or inns most nights, van support, and almost all travel on established trails with no glacier travel or technical terrain, making it more accessible to the fit and adventurous hiker who prefers to stop short of mountaineering! More info below.
Ski touring the the Queyras, France
2011 ski trips

We hope you'll consider joining us on one of these tours. Give us a call and see about our availability.
2011 summer Alps season
Our available time slots for 2011 are disappearing all too quickly, so if you think you might like to try and fit in a climb or two with us here, please be in touch soon with your projects or ideas, or visit our Alps page for inspiration. Meanwhile you can check the status of our availability here.
Summer Glacier Haute Route
Again, this coming summer, Kathy will guide a summer Chamonix-to-Zermatt Glacier Haute Route, July 24-30. This is a challenging program, linking high alpine passes, cols and glacier crossings. Check here to see whether or not there is still space available on this trip.
Chamonix to Zermatt Walker's Route
Also, Kathy is planning a "Walker's Haute Route". This itinerary stays on trails, in hotels (except for one night in a hut) and even has your baggage awaiting your arrival at the next hotel. See Walker's Haute Route for more information. Dates are July 12-20. Check here for space available information.
Day 2 of the Summer Glacier Haute Route
Please be in touch
We love to hear from you. If you want to talk about future projects or climbs and trips you'd like to do, or to sign up for one of the trips we've planned in the coming year, or just say "hi" and let us know what's new with you, please send us an email. And thank you all for following our antics over the years!
Yours Truly,


Kathy and Mark