Thanks, but no thanks


We don't like to receive newsletters we aren't interested in and know you don't either. If you prefer not to receive these emails, please click HERE to be taken off our recipient list. We won't take it personally!


Kathmandu




Lets talk about you


We would like to mention folks by name and feature them personally as much as possible. However we also wish to respect everyone's privacy, so if you have done a trip with us and would prefer we not share the particulars on an e-newsletter, we perfectly understand. Please let us know!
Trips from last winter
•
Diana & Marcus Collie Col du Passon
•
Lawrence Cutler skiing and climbing
•
Kade Spears ice climbing
•
Emma & Adrian Read skiing
•
Tara & Oliver at the Grands Montets and the Combe de Berard
•
The Dementiev and Hiscocks families on the Vallee Blanche
•
Roger Weatherby and Rob Wendon near Contamines Mont-Joie
•
Dolomites ski adventure with the "Gang of 5 to 7": Elizabeth Moceri, Rich Davis, Marcus Gallie, Chris Robinson and Paul Farrelle.
•
Ortler tour with Greg Conway, Jose Brena, Michiel Bakker, Erik Wetter and friends.
•
Another Ortler tour with Ken Uphoff and Christine Burnell, Marcus and Diana Collie, and George and Diane Ciavola.
•
Silvretta region with Russ and Debbie Lee, Kade Spears, Kimber Keagle and Gerritt Saylor.
•
Back to the Ortler for a private tour, we were joined this time by Pat Norwil, Peter Eckman, Jeff Brown and Chris Stern.
•
Private Chamonix to Zermatt Haute Route via Verbier variation, with Debbie and Bill Pierce, Marlene Gemar, Eric Ryan, Sola Didomenico, Dennis Vogler, Randy LaBeff and Lisa Helmbrecht.
•
A second Haute Route via the Plateau du Couloir with Mont Velan. Mark Longstaff, Fred Larke, Tom Drake, Gary Rowles, and Lynne and Peter Staub.
•
May ski tour in the Engadine, around Piz Bernina with Emma Read, James Manning and Keith Fletcher.
Cevedale in the Ortler

Last summer's fun
•
Alex Lockwood in the Chamonix area
•
Matthew, Minx, Lincoln and Julia, in Chamonix
•
Sue Harrington and John Fine in Chamonix
•
Peter Harris and Mark Conner in France and Italy
•
Michael Starr in Zermatt
•
Rob Maloney in Chamonix
•
Marcus Gallie and Elizabeth Moceri on Mont Blanc
•
Ive DeKerf, Wim Desmedt and Kristof Mommaert in Chamonix
•
Bill Kind in the Berner Oberland and in Chamonix
•
David Dougherty and Matt Ryan in the Berner Oberland
•
Josh Seeherman in Chamonix
•
John Hornbaker in Chamonix
•
Grant Carnie all over the place
•
Norm Numerof and Curt Green in the Engadine
•
Michael Starr again, in the Engadine and in Zermatt
•
Larry True and Fre Bosman in the Berner Oberland
•
Henry Tufnell and George Bossom on Mont Blanc and others
•
Andy Latham in the Engadine and Berner Oberland
•
Lillian Cuthbert all over the place
•
Gini Kramer rock climbing in Chamonix
•
Amy and Jeannie Boebel in Chamonix
•
Cathy Ann Taylor, Marie DeJournette and Matt Croy on Mont Blanc
•
Doug and Jim McVey in Chamonix and Saas Fee
•
Mark Conner again, in Saas Grund and Chamonix
Climbing in Les Calanques
...and this last fall
•
Mediterranean rock climbing
•
This past October we headed in for an exploratory trip and attempt on Urkeinmang, another seldom-climbed peak in Nepal's Langtang region. While our main achievement toward that objective proved to be learning several reasons why it's so seldom climbed, we did climb Yala Peak and Naya Kanga as well as descending to Kathmandu via the Kanja La.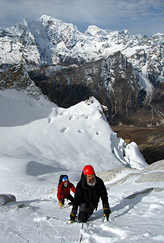 Kyajo Ri, Nepal
Newsletter Revived!


It's January, just starting 2010, and our New Year's resolution for the coming year is to revive the Cosley and Houston Newsletter!
The moribund C and H newsletter has been languishing for years. We find we miss this way of highlighting all of the adventures you've had with us in the mountains and sharing them with the wider world. In this issue, news of the last year's trips—which you can also find in our recent trips pages—and what we have planned for the coming year.



What have we been up to?


So, just what have we been up to the past few years? Well, as many of you know we moved our permanent residence to France, and sold our little house in California, for one thing. We bought a chalet in Les Houches, France, and are making our best effort to live happily ever after.
We've joined the French national guides association, the SNGM, and continue, with varying degrees of success, to decipher the whats-and-wherefors of officially living and working in France. It has been quite an adventure, full of stories, some humorous, but many just plain embarrassing. We've always believed in the value of a personal challenge, and this certainly has been one for us.
But we like it, and living full time in the Chamonix valley, we've been able to take advantage of the great ski tours and off-piste skiing available in the heart of winter. It's a fantastic place to explore, with no end to the possibilities. There is also some good ice climbing in the neighborhood.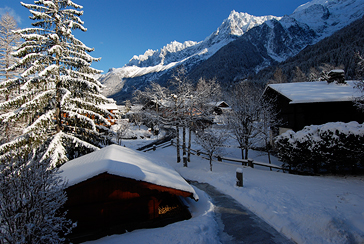 The view from our living room.That's our garage in the foreground.




Current conditions in the Alps


As we write this, most of Europe is experiencing a bout of very cold and snowy weather. Recent storms have left lots of snow in the mountains. In general, the snowpack is considerably thicker than average at higher elevations (above about 2000 meters) and average at lower elevations. We are happy to see a good start to the season.
Here are links to a few of our favorite snow and avalanche information websites for more complete and up-to-date information:


•

Avalanche bulletin for the Haute Savoie. (oddly translated to English)


•

Swiss national avalanche bulletin and hazard map both in English


•

Snow depth in Switzerland as a % of 10-year average, updated weekly.


•

Snow-Forecast maps for the Alps. Use the pull-down menu and time-slider on the right for either history or forecast.


•

Chamonix Valley weather forecast in English.



Upcoming '10 ski dates


For the 2010 hut-to-hut ski season we have several trips planned.


We hope you'll consider joining us on one of these tours. Give us a call and see about our availability.


Heather McCoy having fun in the Vallee Blanche




'10 summer Alpine climbing season


Our available time slots for 2010 are going fast, so if you think you might like to try and fit in a climb or two with us here, please be in touch soon with your projects or ideas, or visit our Alps page for inspiration. Meanwhile you can check the status of our availability here.


New! Alpine Trekking


Also coming up this summer, Kathy will guide a summer Chamonix-to-Zermatt trekking adventure in August. Check here to see whether or not there is still space available on this trip.



Expedition in Peru


We have an Ishinca/Chopicalqui Expedition planned for May 18 to June 4 this year. We start in the Ishinca Valley, first climbing 5420 meter Urus Este. From there we move on to Nevado Ishinca, 5530 meters, and 6032 meter Tocllaraju. After a rest day in Huaraz, we finish with an ascent of the very beautiful 6345 meter Chopicalqui. This trip may have one space still available, so fire us an email if you want to be put on a waiting list in case this clears.


Camp on Ishinca, Peru




Nepal 2010


Most autumns we have headed over to Nepal. In 2006 and 2007 we guided ascents of a lesser-known and beautiful peak in the Khumbu, 6186-meter Kyajo Ri. After scouting it out with Andy Latham in 2004 (photos here), our 2006 trip was with Emery Dameron, Matt Scott and Jean-Claude Latombe (photos). In 2007 we were joined by Pamela Bjorkman, Minx Scott and Connie Garret (photos).
We plan a return to Kyajo Ri in October 2010. Think you might want to join us? Let us know!



Please be in touch


We love to hear from you. If you want to talk about future projects or climbs and trips you'd like to do, or to sign up for one of the trips we've planned in the coming year, or just say "hi" and let us know what's new with you, please send us an email. And thank you all for following our antics over the years!
Yours Truly,



Kathy and Mark